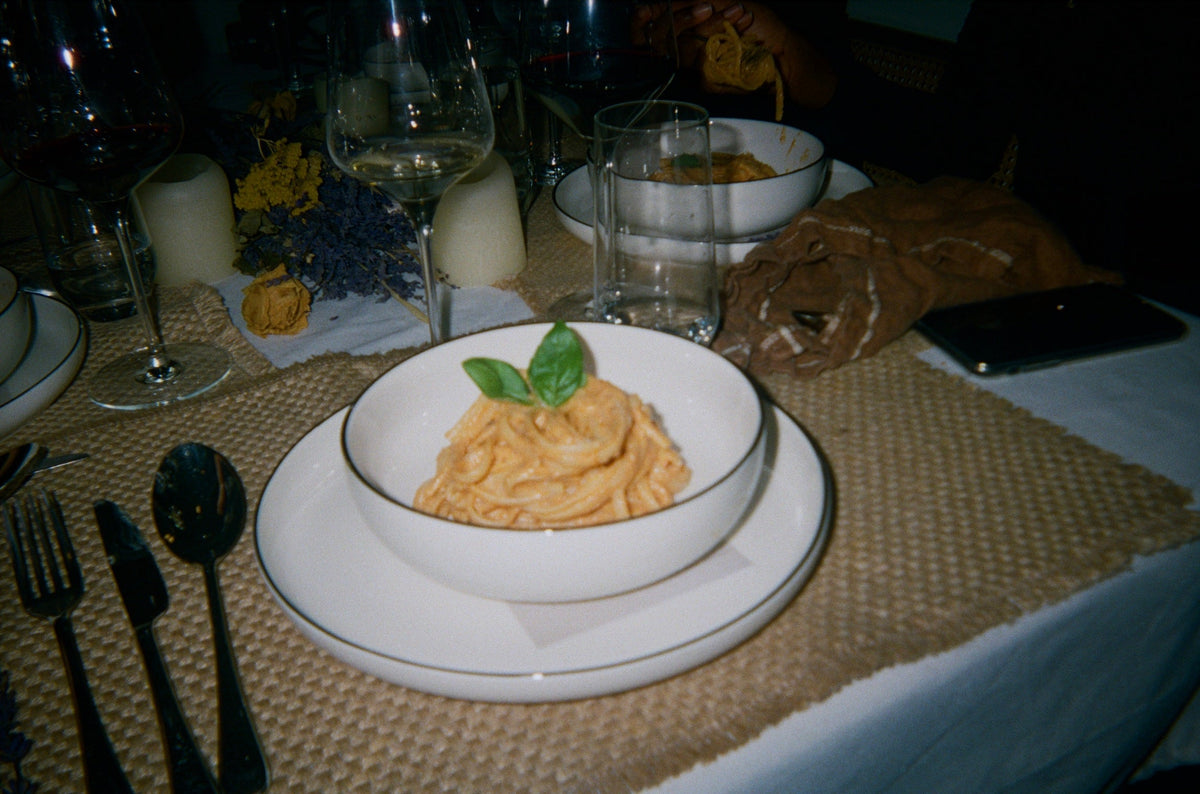 Bucatini in Roasted Butternut Squash Pasta Sauce Topped with Basil
This is one of my favorite fall dishes to make for guests. It's super simple, packed with taste and you can even make the sauce the night before and let it sit in its beautiful flavor until you're ready to cook your pasta and serve. Tell me how you like it! 
Ingredients
1 large butternut squash, peeled, seeded, and cubed
3 tablespoons olive oil
1 medium onion, finely chopped
4-5 cloves garlic, minced
1 teaspoon dried sage
1/2 teaspoon ground nutmeg
Salt and black pepper to taste
2 cups vegetable broth
1 cup heavy cream
3 tablespoons miso paste (Optional)
600-700 Grams pound Bucatini Pasta (If you can't find Bucatini, you can use a pasta of your choice)
Fresh basil or Fresh parsley, chopped, for garnish. 
Grated Parmesan cheese, for serving
Directions
Step 1 - Roast the Butternut Squash
Preheat your oven to 400°F (200°C).
Cube your butternut squash
Place the cubed butternut squash on a baking sheet, drizzle with 2 tablespoons of olive oil, and season with salt and pepper.
Roast in the preheated oven for about 30-35 minutes or until the squash is tender and slightly caramelized.
Step 2 - Sauté Onion and Garilic
While the squash is roasting, heat the remaining 1 tablespoon of olive oil in a large skillet over medium heat.
Add the finely chopped onion and sauté for about 4-5 minutes until it becomes translucent.
Stir in the minced garlic and cook for another 1-2 minutes until fragrant.
Step 3 - Blend the Sause
Once the roasted squash is done, transfer it to a blender or food processor along with the sautéed onions and garlic.
Add the dried sage, ground nutmeg, vegetable broth, heavy cream, and white miso paste.
Blend until you achieve a smooth and creamy consistency. You may need to do this in batches if your blender isn't large enough.
Step 4 - Cook the Bucatini
In a large pot of salted boiling water, cook the bucatini pasta according to the package instructions until it's al dente.
Drain the pasta, reserving about 1 cup of pasta cooking water.
Step 5 - Combine Sauce and Pasta
Return the blended butternut squash sauce to the skillet.
Add the cooked bucatini pasta to the skillet with the sauce.
Gently toss everything together, ensuring the pasta is well-coated with the creamy sauce. If needed, use some of the reserved pasta cooking water to adjust the consistency of the sauce.
Step 6 - Serve while Hot
Plate the creamy butternut squash bucatini pasta on individual dishes.
Garnish with fresh basil (or chopped parsley if basil isn't your thing) and a generous sprinkle of grated Parmesan cheese.