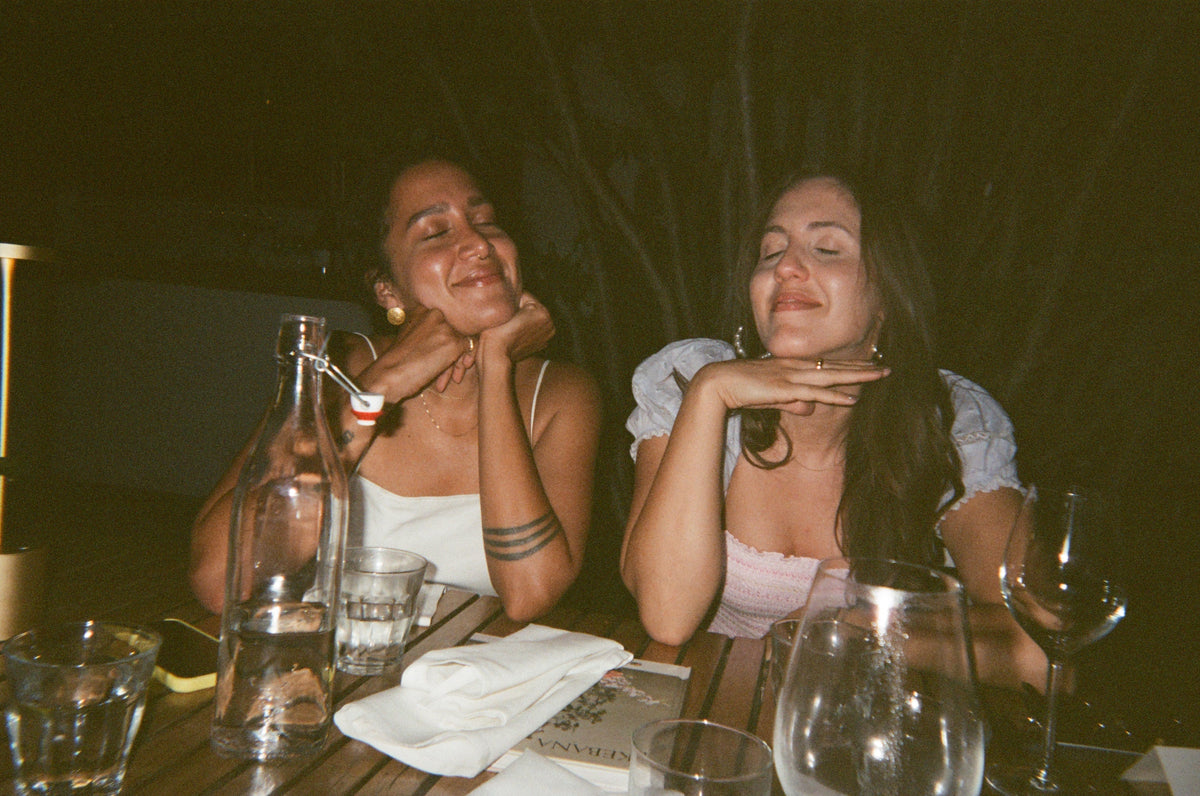 Nourishing Connections: The Story Behind & the Table
For me, it all started growing up in a world where dinner wasn't just about the food.
It was the space where my family came together every Friday night, to reconnect after six days of living our individual lives. Amidst the chaos of life, the dinner table was our sanctuary. We could bring anyone to the table, but one thing was non-negotiable—we had to be in that chair. Those meals were our heartbeat, moments that celebrated connection and storytelling with whoever sat around our table that week.
Skipping ahead a few chapters, I made my way to New York where I quickly fell in love with the music industry, specifically producing music festivals. This quickly whisked me away to a whirlwind adventure across Europe, China, South America, and Mexico 9 months of the year. It was the festival days itself that got my adrenaline pumping. I witnessed the excitement in festival-goers' eyes as they entered, ready to create memories with friends both old and new.
As fate would have it, my festival team was predominantly Dutch, and that's how Amsterdam became more than a city on the map. I fell in love with the ease of the city and for a place I had only been to once before, it felt like I was home. 
Determined to make that feeling a reality, I interviewed at countless companies but never fit the bill. So, I took a leap (...very calculated and with a lot of planning), opting for the DAFT visa. As soon as I got the thumbs up, I stepped into Amsterdam's embrace and the world of advertising for it felt like a seamless transition from my role in the Music world. Crafting campaigns for companies like like RayBan, Airbnb, and adidas, was exhilarating, yet amidst the creative frenzy, something clicking. I knew campaigns for shoes and phones were not my end point; I was missing the connection of the experience.
This was all in 2017 & while I was getting my feet on the ground in advertising, I wanted a way to meet the women in Amsterdam who were making waves. I hated networking events, anything that had the word "Friendship" in it but equally loved meeting ambitious women. This is where "Sam's Dinners" entered the scene. I invited 5 women to my home that i had never met for a meal. There was always a theme and a question to lead conversation for we were all just meeting for the first time. I would invite someone from my work, someone from the gym, someone from my coffee spot - an invite could come from anywhere. 
It really started as a casual get-together but in true American form, I thought the path to success was BIGGER. So I did some bigger events, long tables and quickly realized it wasn't for me. It felt transactional distant. It felt like networking and I wasn't connecting with the women around the table. 
Coincidentally, by this time it was March 2020, so Covid began and the dinner's stopped..... 
March 2022 marked a revival—an emergence from the pandemic's grip. "& the Table" was born. Within two months, I received a staggering 500 requests for just five spots. Apparently, I wasn't the only one yearning for these small intimate connections. The path forward seemed clear—to expand, to bring this essence to other homes. But who would be as crazy as me, willing to invite 5 strangers into their home?
July 2022, two of my regular guests (who didn't know each other at the time) came to me within the same week asking to host this in their home to. That told me, I need to try this. 
August 2022 saw the first two tables hosted outside of my home by, Ami & Jess. They were beautiful evenings I watched through the eyes of my phone in awe that this could be done.
Today, we have 91+ hosts in over 12 countries across the world. Our secret sauce? Themes and questions that stir emotions and provoke thoughts. They lead us to uncharted territories, where stories flow freely, and genuine connections are formed. And when there are six of us—no more—the conversation blossoms, and every voice finds its place.
We're not just cooking up events; we're creating connections that stay with you. It's about embracing vulnerability and weaving friendships that extend beyond the evening. We're coming together over shared experiences, transforming strangers into companions.
So here's to you—the seeker of connections, the carrier of stories, and the believer in friendships waiting to be nurtured. Welcome to a journey that nourishes you, provokes your thoughts, and redefines what it means to show up solo. 
With love and shared stories,
Sam