Why in a restaurant?
I've been thrilled by the response of the 600+ of you that want to attend this experience in my home. But, I'm only hosting 1-2 tables a month with at most 6 women. This experience will always stay small due to the importance of keeping the intimacy. So without me turning my home into a restaurant I needed to figure out a new way to have this experience outside of me but keep to the quality of the food and overall vibe.
I was sitting at a restaurant one evening and I thought "hmmm what if this concept lived here and I knew 6 other women were showing up solo...? Would I go?" With my answer being 'yes' I knew I found the right restaurant partner and this experience could start to build legs.
This is the first phase of & the Table experience growing and it will take some time to kneed out the bumps but i'm so thrilled all of you women want to go on this exploration with me and meet new and nourishing women.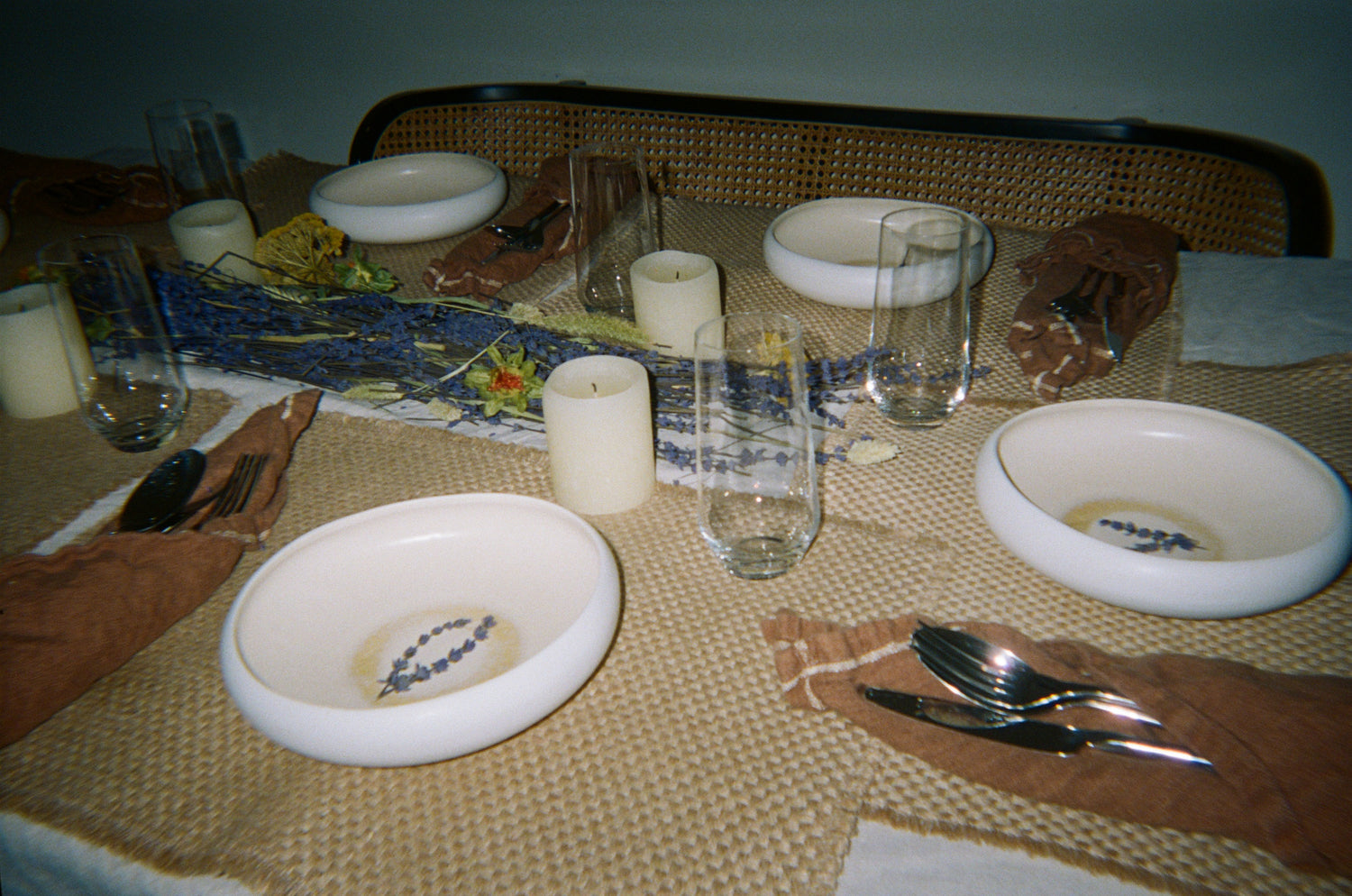 What is a restaurant evening like?
THE WOMEN

All women come open to meet the four to five other women at the table that evening that they have never met before. All women buy their ticket solo. All dinners will have a different 'host' which you can see in the description of the evening. They will help guide the conversation for the evening and keep a flow to the evening.

A THEME & A QUESTION

Because this is first come, first serve there are different themes to each dinner to ensure there are commonalities. In addition there is always a question that surrounds the evening that helps conversation continue to flow through the night. Please only book if the theme is relevant to you. If you have any questions, you can always reach out.

IN A RESTAURANT

The restaurants are opening their doors to us and we're thrilled to parter with them. The location will be in the event invite and I welcome any and all feedback about your experience at the specific location. All locations have a different vibe but we always try to keep a level of intimacy allowing for in depth conversation.
& CURRENTLY THERE ARE TWO TYPES OF DINNERS YOU CAN JOIN....
OPEN TABLES

In these tables all women are welcome. We come to connect on all levels of life - career, family, relationships - with the women who have just come on our path for the frist time. Please remember these evenings are to share our lives so come open to sharing your and ready to listen to others.

THEMED TABLES

In these tables, I put on different themes to allow for further commonalities. Some of the current ones are Entrepreneurs, Quarter Life Crisis, Expat Life and Motherhood. Each month there will be new themes for different and new types of commections.
MORE QUESTIONS
WHAT DO I NEED TO BRING OR PREPARE FOR THE RESTAURANT??
All of our weeks can be hectic so I want each of you to show up as you are and enjoy the experience. That is why this is pre-paid and the only thing you need to think about prior is the question on the table for the evening.
WHY DO ALL THE WOMEN COME SOLO?? CAN TWO OF US NOT COME TOGETHER??
This concept started off because I love meeting new women but heavy disliked netowrking events. I felt conversation was a script or only really scratched the surface of who someone was. I want to create an enviornment where everyone shows up solo and feels comfortable doing so because they know everyone else is. It allows the experience to be about meeting new women whom have not yet crossed our path and have in depth conversation learning about one another. With that, I do ask that you DO NOT sign up with friends to allow for the experience to happen as it is intended.

SO THIS EXPERIENCE IS NOT AS CURATED AS THE DINNERS??
This is correct. This is a first come, first serve experience and if there is an open seat, you're able to snag it. For that reason it is different than at the home but still allows for women to connect about the things they are going through in their life. I currently have 2 types of themes for the dinners (Themed + Open Table) and this will further expand over time so they naturally become curated to women with similar types of interests.
WHY DIFFERENT THEMES?
I want there to be some elements of commonality at some tables. I will always try to keep one or two "Open Tables" on the calendar so anyone can join but also add ones such as "Entrepreneurs", "Art Enthusiast" or "I Just Quit". More details on the current ones can be found in the block if you scroll up.
HOW MUCH DOES THE EXPERIENCE COST??
This is a pre-paid experience and it ranges dependent on the restaurant. Cost information, the menu for the night and more are in each event description. If you want an extra cocktail or something that's not on menu, you're always able to purchase as an addition with the restaurant.
I SIGNED UP & I CAN'T GO ANYMORE, IS A REFUND POSSIBLE?
All evenings are pre-paid to allow for an ease when showing up. Your chair is refundable until 72 hours prior. If within 72 hours, please still let us know for if we can fill your spot, then your ticket will be paid back.
WHAT'S ON THE MENU??
Each restaurant has a different menu. In the description of the event you will see what's on the menu for that evening.

WHAT TIME DO THE DINNERS START AND HOW LONG DO THEY GO??
This depents on the restaurant and it can be found in that event detail. For the most part, they start at 6:30PM (18:30) and they go till we decide the evening has concluded - but this normally sits around 9-9:30(21-21:30). Please ensure you are on time for food service will begin.

WHAT DAY OF THE WEEK DO THE DINNERS AT RESTAURANTS TAKE PLACE??
Each month this changes, but normally this is on a Wednesday, Thursday or Friday evening. 

I HAVE DIETARY RESTRICTIONS, IS THAT A PROBLEM??
Not a problem at all! The menu will be outlined in the event so you can see if anything does not work for you. If it doesn't, shoot me a message and we can figure out a way to accomodate. This must be done at least week before the experience so the restaurant can prepared.

WHAT'S THE DRESS CODE??
Comes as if you are going on a first date with six other women. When do we get to dress up in the city! This is a good excuse for that :)

I'M NOT FROM THE CITY IT'S TAKING PLACE IN BUT I'M GOING TO BE IN THE CITY, CAN I COME??
Yes! Any and all women are open and invited to come to the table. If you are in the city on the date, you are more than welcome to join. I just ask that you please only sign up solo.

I'M A RESTAURANT AND I WANT TO HOST / DO SOMETHING WITH YOU, IS THAT POSSIBLE??
Yes! I'm always open to building and growing. Both in and outside of Amsterdam. Send me an email and we can discuss - Info@andthetble.com

WHAT IF I HAVE MORE QUESTIONS??
If you have any other questions, you can email me or DM me @and.the.table on instagram.